Finance Solutions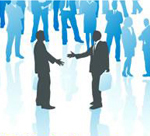 Funding is the lifeblood of a business. Lack of adequate funds is a major cause for the downfall of companies and in some cases, the companies fail to even take off. Funds are required for each and every activity of a company. Also it is not enough to just have capital, it is equally if not more important to have adequate funds. By adequate funds we mean funds sufficient for a particular activity or business as a whole at a point. Excess funds will result in under-utilization of resources and eventually a loss to revenue, whereas, insufficient funds will hamper normal working and growth of business.
Project Reports & Financing
Setting up a new company and don't know where and how to go about approaching banks for finance? Take heart, Ashok Kapur & Associates can help you with all this and more. We at Ashok kapur & Associates will not only prepare your project reports, relating to your costs, revenues, break-even, capital, loans, etc on the basis of market survey and projections, but we will also present it to banks/ financial institutions in the required form so to help you acquire the finance. Our approach is to understand your financing options, evaluate alternatives and structure the best terms to promote growth and flexibility.
Working Capital Financing
Are you having problems with working capital estimation and financing? Read on. Ashok Kapur & Associates provides you a complete and wholesome range of services, from your working capital estimation, reports preparation to financing. At Ashok Kapur & Associates we estimate your working capital requirements, arrange the figures in suitable reports and statements for presentation to the banks and finally on behalf of our clients, we negotiate with banks to help them get the required finance at the best of terms.